upcoming
FREEFALLING MONTHLY: SEPTEMBER EDITION
Friday, September 25th
Head to our website for more info:
Subscribe to posts
Monica Hamburg Presents - Various dates in March 
Comedian and FSR member Monica Hamburg Presents a series of new, evolving & experimental comedy shows at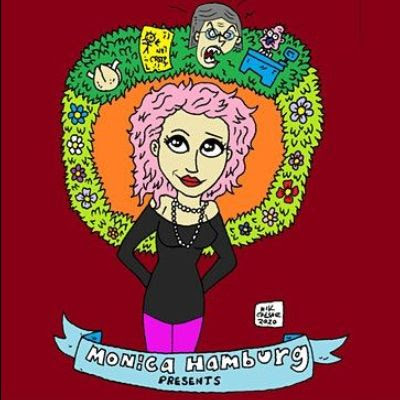 Espace 
Freestanding
Room - which continues this month
.
 Experience how they'll develop over time. What concepts will be the most fun? Which will turn into a regular show? Will she collapse during the 8th show? Laugh as you fi
nd out! 
March Shows
Fri, March 6 at 8pm
-MOM OFF – co-production with Peter J. Radomski-
Whose mom is the most infuriating? Peter and I get guests to demonstrate how frustrating their mothers are – through material they bring as proof and challenges we make them do. (Guests: Karl Knox, Mason Terry & Viveth Kanagaratnam) (Tickets $10)
Fri, March 13 at 8pm
-The Work Jerk-
A show about Job Insanity: Comics do a set about weird jobs, weird coworkers & other job strangeness – and then I ask them painful interview questions (Guests: Jason Celin, Erica Taddeo, Paul Ash, Kathy Slamen, AJ Young) (Tickets $5)
Fri, March 20 at 8pm 
-Hurtful Fortune Cookies-
Bullied by a cookie! We've all received brutal and bizarre fortune cookie fortunes. We'll** share them. And discuss the fun/pain of the cookie. (Guests: Hart Less, Jason Grimmer, Ines Anaya, Lucy Gervais, Ben Cardilli) (Tickets $5) 
Sat, March 28 at 7pm
-Please Elaborate (2)-
Comics do a set about strange occurrences in their life & then we ask them questions. (Guests: Alex Wood, Kara Parham, Spencer Reid, Michelle Dominique) (Tickets $5)
Eventbrite here: 
https://www.eventbrite.ca/e/monica-hamburg-presents-comedy-shows-february-march-2020-tickets-92384126409
More about Monica here: 
MonicaHamburg.com
Facebook Page: 
https://www.facebook.com/MonicaHamburgPresentsMore/

Espace Freestanding Room is proud to host the winners of this year's Freebie award (Montreal Fringe Fest 2019): To The Hilt Productions with their remount of the wonderful Dear Jax,.

"WINNER
Freestanding Room Award for Making Big Things Happen in Small Places
FINALIST
Best English Production (Centaur Theatre) 
After a critically acclaimed run during the 2019 St. Ambroise Montreal Fringe Festival, To the Hilt Productions's Dear Jax, is returning for a short residency at the Freestanding Room.
A metaphysical-correspondence piece that attempts to bridge the gap between the physical and spiritual world through storytelling by investigating the connections that resonate after death. 
"The production is a must-see...very emotional and powerful...eye-opening and life-changing." - Curtains Up
"A moving gem of a play." - Westmount Mag
"The storytelling masterfully conveys poignant emotions... honest, vulnerable, dynamic, and open...I cannot recommend this enough." - Montreal Theatre Hub 
"Beautifully performed show about grief and hope" - Jim Burke
PERFORMANCES
Wed. Feb 26th
Fri. Feb 28th
Sat. Feb 29th
Sun. Mar 1st
8:00PM, followed by talkbacks"
Like clockwork, June means the St-Ambroise Montreal Fringe Festival is back and we're happy to be an OFF venue for the festival once again! We're hosting three shows between May 29th and June 15th:
- Magnificence - May 29 to June 15
Keir Cutler (Teaching Shakespeare, Shakespeare Crackpot) adapts his mother's, May Cutler's, award-winning memoir from Mont-Tremblant in the 1930s. "Simplicity and goodness, stunningly exemplified!" – New York Times in 1973.
"Keir Cutler is a masterful entertainer!" – Winnipeg Free Press
"One hell of a storyteller!" – Vue, Edmonton
Keir's 15th Montreal FRINGE!
FB Event: 
https://www.facebook.com/events/388491975324355/
Fringe page: 
https://montrealfringe.ca/organizer/magnificence/
- Antonin Artaud's SPURT OF BLOOD - May 29 to June 15
Marissa Blair creates an immersive and sensorial theatre experience in SPURT OF BLOOD, a play written by Antonin Artaud during the development of his philosophy, the Theatre of Cruelty. Artaud's morally rigorous and violent criteria for spectacle are employed in this multilingual production which includes projections, intense soundscapes and blood.
FB Event: 
https://www.facebook.com/events/428460467905127/
Fringe page: 
https://montrealfringe.ca/organizer/antonin-artauds-spurt-of-blood/
- Tomorrow - May 31 to June 15
Hooks and Crooks brings you the OFF FRINGE event of the year: TOMORROW, an intimate, immersive transmutation fever dream about Macbeth and the climate crisis.
-

 
Dance Side of the Moon - May 31 to June 17
A reimagining of the greatest concept album of all time, using movement, music and video projection to create a hauntingly poetic reflection on fear, isolation and hope. Produced and choreographed by FSR member Helen Simard.
https://montrealfringe.ca/organizer/dance-side-of-the-moon/
-

 
Wild Bill's Facebook Livefeed Feeding-Time Youtube Yeehaw! - June 1 to June 17
Wild Bill, a YouTube star pet goldfish.
Edward, his fame-drunk owner-producer and puppeteer.
An army of internet commenters: fawning, trolling, giggling, threatening.
Then, an unexpected threat to Bill's life.
A new comedy by a graduate of École Philippe Gaulier and a live goldfish. Written and performed by FSR member Steve Day.
https://montrealfringe.ca/organizer/wild-bills-facebook-livefeed-feeding-time-youtube-yeeeehaw/


- Rootless Tree - June 1 to June 17
Forced to share a home since discovering that they share a husband, Norma and June spend each day waiting for his return, as if performing a daily sacrifice on a loop. One day, a mysterious stranger arrives in the middle of the night with unexpected news that uproots their sacrament. Featuring FSR admin Jen Viens.
https://montrealfringe.ca/organizer/rootless-tree/
Stendhal X will be visiting FSR, presenting their production of "God of Carnage" this May! Two sets of parents, one of whoms child has hurt the other at a public park,
agree to meet to discuss the matter in a civilized manner. However, as the
DATES
May 3rd-6th @ 8 PM - THE FREESTANDING ROOM
May 10th-13th @ 8 PM - THE FREESTANDING ROOM
May 13th @ 2 PM - PWYC - THE FREESTANDING ROOM
We Are One is proud to present the World Premiere of "Smackhead" by Nastasia Pappas-Kemps this March. 
We Are One is a Montreal based feminist theatre company. The company was created with the goal of inclusivity and accessibility; specifically with the intention of giving women the opportunity to play diverse, challenging and powerful roles.
"Smackhead" is about a recovering heroin addict, Ramona. She has taken it upon herself to advocate for the removal of morphine from hospitals across Canada, beginning with Sick Kids hospital in Toronto, where she is completing her residency as a paediatric nurse. It is there that she meets Faith, a young girl with uterine cancer, hellbent on completing her final cinemati
c masterpiece: a complete recreation of the hit movie musical, Singin' in the Rain. It is through Faith that Ramona is finally able to confront and face her demons, beginning with a re-examination of her past love, her drug dealer, Max Foster.
Shows:
March 1st at 8PM
March 2nd at 8PM
March 3rd at 8PM
March 4th at 8PM
March 8th at 8PM
March 9th at 8PM
March10th at 2PM
March 10th at 8PM
March 11th at 8PM
Little Charming is just a regular little boy, who loves his family. But one day, his parents are taken away by giant monsters! Join Little Charming as he adventures through the land of Ima-
gi-na-tion, where he meets characters who teach him a few things along the way. There is a Nurse, a Farmer, a Witch, Queen Charming, King Charming, a Moon, and even his brother, the one and only, Prince Charming.
Using puppets, poetry and physical theatre, Laurent McCuaig-Pitre crafts a new fairytale, "Little Charming", that will tickle, 
transport and enchant all ages.
Thursday February 8th @ 8pm
Friday February 9th @ 8pm
Saturday February 10th @ 4pm & 8pm
Sunday February 11th @ 8pm
Thursday February 15th @ 8pm
Friday Febr
uary 16th @ 8pm
Saturday February 17th @ 4pm & 8pm
Sunday February 18th @ 8pm

$15 - General
$12 - Student/Artist/QDF
Tickets are available online or at the door.

Buy online:


http://

www.creativeexpression.ca/
FB Event:
https://www.facebook.com/events/1610165249052285/
Coming up at FSR!:
When the Muse is accidentally summoned into the world by deadbeat writer John Doe, he will stop at nothing to harness Muse's lucrative creative potential. Can creativity be used, consumed or controlled? Or is freedom the catalyst for artistic expression?
Thursday December 7th @ 8pm
Friday December 8th @ 8pm
Saturday December 9th @ 4pm & 8pm
Sunday December 10th @ 8pm
Thursday December 14th @ 8pm
Friday December 15th @ 8pm
Saturday December 16th @ 4pm & 8pm
Sunday December 17th @ 8pm



Blue Ox Productions Present's the remount of the Montreal Fringe smash hit, Invasive Species, written and performed by Gabriel Schultz. Winner of the Freestanding Room Award at the 2017 St.Ambroise Montreal Fringe Festival, the ecological thriller that the Montreal Gazette called "an icky slick of Southern Gothic" returns more sticky and slimier than ever before.
TICKETS- $15 (regular) $12 (Student and QDF)
November 16th-18th+22nd-25th @8:00 PM
November 18th and 25th 2:00 PM
In
Invasive Species
we ride on board Train 49 with Junior, a professional toad hunter and raging venom addict. Now in this sweaty, southern, bourbon-soaked universe, we are absorbed into his tormented fantasy and his vengeful obsession with the Cane Toad: the most invasive amphibian on planet Earth.
Cast/Crew
Director-Stephanie Costa
Performer/Writer- Gabriel Schultz
Performer-Darragh Mondoux
Set/Lighting-Zoe Roux
Costumes-Sophie El-Assaad

Music-Gabriel Frank
Sound-Devon Bate
Stage Manager-Lyanna Labelle-Rocha
Marketing-Sage Szkarbarnicki-Stuart
Dialect Coach-Jillian Harris
Pete Seeger's The Incompleat Folksinger, with Mark Hellman
Directed by Ross Desprez*
October 26 – 28, 2017 (Thurs/Fri 8pm, Sat 2pm/8pm)
Tickets: $20, Children under 12 FREE (reservations required)
Actor, musician, independent producer, and former Montrealer, Mark Hellman is delighted to return
to his favourite city in Canada, bringing his rollicking tour de force tribute to the late, great
folksinger, social activist, and global citizen, Pete Seeger, to Montreal for 3 DAYS ONLY at
Espace Freestanding Room.

Pete Seeger was a key figure in the mid-20th century global folk music revival. He sang in defence
of the poor, the oppressed, and the exploited; and always to enliven and encourage, to delight, and
to tell tales. This unique full-length solo performance (adapted from Seeger's 1972 autobiography of
the same name) combines verbatim theatre, story telling, music, and audience participation (for
which Seeger was perhaps most famous),taking the audience on a journey spanning 35 years (1935-
70) and featuring all or part of 29 songs. Seeger reflects on his involvement in the union
movement, WWII, his stand against McCarthyism (HUAC), his participation on the front lines of
the Civil Rights Movement, and his travels to conflict zones overseas, while honouring some of his
greatest inspirations: Woody Guthrie, Lee Hays, Leadbelly, Martin Luther King, and the love of his
life, Toshi Ohta. Invited to sing at every turn, the audience is completely engaged and embedded in
the performance, and by the finale of "If I Had a Hammer" audience and performer merge into a
mass choir, embodying the principle that Seeger lived through his life and art: "Participation. That's
what's gonna save the human race."